4th April - EASTER SUNDAY
The Empty Tomb
Texts:
Matthew 28: 1 -10 - "Early on Sunday morning, as the new day was dawning, Mary Magdalene and the other Mary went out to the tomb.....the angel spoke to the women, 'Don't be frightened!" he said, 'I know you are looking for Jesus, who was crucified, but He isn't here! For He has come back to life again, just as He said He would. Come in and see where His body was lying.' (vv. 1; 5-6)
1 Corinthians 15: 3-8; 12-20 - "Christ died for our sins just as the Scriptures said He would, and that he was buried, and three days afterwards He arose from the grave, just as the prophets foretold." (v. 3&4)
"But the fact is that Christ did actually rise from the dead, and has become the first of millions who will come back to life again some day." (v. 20)
VERDICT ON THE EMPTY TOMB:
The most important question in the world today is whether Jesus Christ rose from the dead and is now alive forevermore? Without doubt the Resurrection is the very heart of the Christian Faith. There are 13 messages or sermons recorded in the Book of Acts. All these messages had one thing in common, namely that Jesus is Alive, and He is in the business of changing people's lives. The Resurrection is mentioned over 100 times in the New Testament. As Paul says in our Text from 1st. Cor., "If Christ has not been raised, your faith is futile." (v.17). In Romans 1:4, Paul writes, "He was declared with power to be the Son of God by the resurrection from the dead.":
"Christianity is a good enough religion when it encourages us to help others and live good lives, but don't dare mention anything about someone coming back from the dead, that's just nonsense." I wonder how we might convince such a person that Christianity is not just about being nice and respectable? The Resurrection is the crucial factor. Please note that the stone was rolled away not so our Lord could escape, but that we might go In. It wasn't the means of exit but of entrance! Now we know He has risen - for the stone was rolled away in order to encourage the proclamation of this incredible event.
The Resurrection answers two great questions of life:.
i) Is there a God? The answer to this is - not only is there a God, but this Eternal Being came into the world in the person of Jesus Christ..
ii) Is there life after death? If Jesus really rose from the dead then this age-old question has once and for all been answered! Not only that but Jesus claimed that all those who have faith in Him will live forever.
One key element to the value or true worth of something is its authenticity. Fake or counterfeit things are worthless. Paul said this of Christianity, he said it was worthless if Jesus' resurrection was not the real deal. "If Christ is not risen, then our preaching is useless and your faith is empty, worthless and hopeless." (1Cor. 15:14). Our faith rests on the authenticity of this story - Jesus died on the Cross and was raised from the dead. It is the real deal and we stake our total dependence on God and its truth.
What happened to Jesus, and how did the tomb become empty? Theories and Answers:
1) It was all a fraud/hoax. Think about it - a Roman security detail consisted of 16 men. If any guard failed in their duty, not only that soldier but all 16 would have been executed. Hardly credible, then, that all 16 'fell asleep' on duty, all at the same time. This would allow the disciples to come and steal the body, and thus perpetrate the biggest hoax in history?? They had nothing to gain in doing this anyway, and it would have been pretty crazy to be willing to die for a lie.
2) The Swoon theory: Jesus just fainted from exhaustion and revived in the coolness of the tomb. The disciples then jumped to the conclusion that He'd come back to life. I think the Romans would make pretty sure the crucified victim was dead - and let's not forget the spear thrust! And how could a half-dead, weak, ill and injured individual convince his followers that he was a conqueror over death? Finally, if the theory is true, Jesus Himself perpetrated a deliberate fraud by passing Himself off as one risen from the dead. Surely not?
3) Delusion: The disciples expected Jesus to rise from the dead - this led to mass hallucination! It was all wish-fulfilment. All in the mind. Actually, the disciples were quite unbelieving and incredulous about the whole thing. When was the last time you had a hallucination? (And can loads of people have the same one at the same time?)
4) Miracle: He did rise from the dead and left an empty tomb. He appeared to many of His disciples. (There are ten resurrection appearances recorded - five on the first day and five over the remaining 40 days). Indeed a mighty miracle had occurred. Christians have a majestic story of Redemption, but it's a story about the fact of its miraculous outworking!
Easter says we can taste Eternal Life and carry within our frail human bodies some assurance that death cannot thwart what God intends. In Oscar Wilde's 'Salome', Herod hears that Jesus has been raising the dead and says, "I allow no man to raise the dead. This man must be found and told that I forbid him to raise the dead." The point of Easter and the opening of a closed tomb is that now tens of millions of Doors of Hope are open for people who trust in Him. The Resurrection is not an optional extra tacked on to the end of the Christian story. He is a Living Reality. I believe it. I believe it.
Prayer:
Give me sight, O Saviour, of your wondrous love to me:
Of the love that brought you down to earth, to die on Calvary.
Was it the nails, O Saviour, that bound you to the tree?
No! It was your everlasting love, your love for me, for me.
My open sins, my secret sins, can all forgiven be!
Then melt my heart, O Saviour, bend me, yes, break me down.
Until I own you conqueror, and Lord and Sovereign crown.
Oh! Make me understand it, help me to take it in.
What it meant to you, the Holy One, to bear away my sin.
Amen.
(Katherine A.M. Kelly)
BENEDICTION:
Christ, you have gone before me, to prepare a place for me.
That where you are, there I may be also.
Teach me to wait with patience, to watch with alertness, to trust that you are with me into the unknown future.
And to know your Presence with me always.
Now may the Saviour who has abolished death, stay by your side through all manner of things.
And the God of Peace who brought up from the dead the Great Shepherd of the sheep by the blood of the eternal covenant, support you all your days,
until the day when He places everlasting joy upon our heads.
Amen.
We wish you all a very Happy Easter. Ralph & Anne Dunn.
28th March
Sixth Sunday in Lent - Palm Sunday
Texts:
Psalm 118: 19-26 - "Open the gates of the Temple - I will go in and give Him thanks. O Lord, thank you so much for answering my prayer and saving me. The stone rejected by the builders has now become the capstone of the arch. This is the Lord's doing, and it is marvellous to see!...Blessed is He who is coming, the One sent by the Lord."
Zechariah 9:9 and v.16 -
"Rejoice greatly, O my people! Shout with joy! For look - your King is coming! He is the righteous One, the Victor! Yet He is lowly, riding on a donkey's colt!" (v.9)
"The Lord their God will save His people in that day, as a shepherd caring for his sheep." (v.16)
John 12: 12: 12-19 - "The next day, the news that Jesus was on the way to Jerusalem swept through the city, and a huge crowd of Passover visitors took palm branches and went down the road to meet Him, shouting, 'The Saviour! God bless the King of Israel! Hail to God's ambassador!' Jesus rode along on a young donkey, fulfilling the prophecy: 'Don't be afraid of your King, people of Israel, for He will come to you meekly, sitting on a donkey's colt.'"
Message - The Triumphal Entry into Jerusalem
Palm Sunday, or Passion Sunday, marks the day that Jesus entered Jerusalem. Until that time Jesus had taught mostly in the country or in small towns. Now He was in the big city. He had reached the 'big time' - He was famous. Lorimer puts it this way, "the hail toun wis pitten in a stir." Indeed it was in an uproar. (A pity little about Jesus seems to 'stir' people today). Palm branches were waved as a sign of celebration - the people were thrilled that He'd finally come to Jerusalem. But still there was the question, "Who is this?" The answer, the prophet from Nazareth - and not just a prophet, as they were soon to discover.
Who could have foreseen that Jesus had only five more days to live? Now how could someone go from being famous and popular to being hated enough to get killed, in only five days? Obviously, something was happening while the people cheered. The high and mighty were frightened and angry. When they saw the wonderful things He had done...'they were highly indignant'. "You see that nothing can be done - the whole world is running after Him." He had to be stopped. They even told Jesus to rebuke those who were praising Him - only to receive His famous response - "I tell you, if these were silent the very stones would cry out."
So with this passage the last act in the drama of the life of Jesus begins. The whole incident with the ass and the foal hints at a pre-arranged plan, but I actually prefer the thought that the words, 'the Master needs them', were sufficient for the owner. He just somehow knew that something important was happening - and he was involved. (The ass had never been ridden before, which made it specially suitable for a sacred purpose. Never having been used for any other purpose underlines the fact that this was not an everyday event - something earth-shattering was taking place.)
The clothes and palm branches had been used in times passed when a king was proclaimed or a conquering hero arrived after achieving notable victories. The greeting 'Blessed in the name of the Lord is He who comes' (Ps.118:26) is a greeting addressed to pilgrims coming to the feast. They shouted, 'Hosanna' - this, as we know, means, 'Save now.' 'Hosanna in the Highest' may mean 'Let even the angels in the highest heights of heaven cry unto God, Save Now!' Nonetheless, it's highly unlikely the crowd had any idea of the significance of Jesus' arrival. His glory remained veiled. The King who rode into Jerusalem was a 'poor beggar-king', as Luther put it. He was on a borrowed beast, with borrowed clothing for a saddle - few really noticed anything special had happened.
In conclusion, I want to point out 3 things this incident shows us about Jesus -
i) It shows His courage: He knew full well He was entering into a hostile city. The authorities had sworn to eliminate Him. He could have easily slipped into Jerusalem secretly at night, furtively seeking out a safe house somewhere. But He deliberately set Himself centre-stage, riveting every eye on Him. In Jesus' last days there was about His every action a kind of magnificent and sublime defiance. Now He throws down the gauntlet - a deliberate challenge to the authorities to do their worst.
ii) It also shows us the claim of Jesus: The claim to be Messiah, no less. He could have consented to the view that He was some kind of prophet or outstanding teacher, and He need never have died that cruel death. But no! With Him it was all or nothing. We acknowledge Him as King today, or we receive Him not at all.
And that leads us to iii) - It shows us the appeal of Jesus: It was not the kingship of a throne which he claimed, but the kingship of our hearts! A king coming upon an ass was a sign he came in peace. (The horse was the mount of war.) Jesus claimed to be the King of Peace!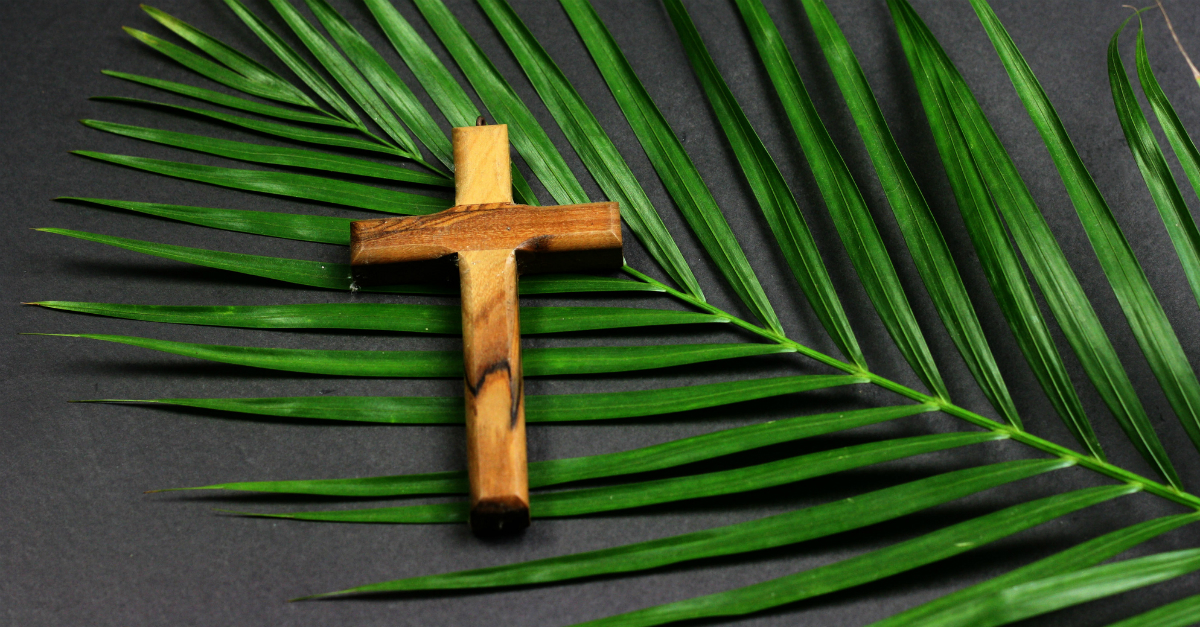 So here we see the courage of Christ. The claim of Christ to be the Messiah and the love of Christ. It was His last appeal to people to open, not their palaces, but their hearts to Him. And that appeal is still offered to us today. Do we have the courage to accept Him? Do you believe His claim to be the Christ, the Son of the Living God? Let's open up our hearts to receive His Love given to us so freely, yet at such great cost. This may be His last appeal.
With prayers and blessings, as we enter Holy Week. Rev. Ralph A. Dunn.
Prayer:
God of tenderness and justice, we thank you for Jesus and the trust in you that enabled Him to embrace the Cross.
Father we find it difficult to understand the sufferings inflicted upon the world this past year, so help us to trust as Jesus did.
He boldly entered into enemy territory, in full acceptance of your perfect will.
As we look forward to Holy Week, show us areas of our lives that need to be touched and redeemed.
We pray for the grace to be open to being filled afresh by you - that your love might shine in us.
We thank you for Christ's courage - 'O wondrous love, to bleed and die; To bear the Cross of shame.'
May we respond to the challenge of His claims upon us and enthrone Him as King of our hearts.
We see in the Cross the lengths to which love will go.
Thanks be to the Lord Jesus Christ, for all the benefits won for us.For all the pain and insults borne for us.
O most merciful redeemer, friend and brother.
Amen.
BENEDICTION:
Glory to you O God, Creator and Father, for the immense universe in which we live, and for being so fearfully and wonderfully made in your image.
Glory to you O Christ, who took a human body and redeemed our fallen nature.
Glory to you O Holy Spirit, whose will it is that we should be made whole in body, mind and spirit.
Glory to God to all eternity.
Amen.
21st March
Fifth Sunday in Lent
Texts:
Matthew 26: 59-64 - "The Chief Priests and, in fact, the entire Jewish Supreme Court assembled there and looked for witnesses who would lie about Jesus, in order to build a case against Him that would result in the death sentence.....Finally two men were found who declared, This man said, 'I am able to destroy the Temple of God and rebuild it in three days.'....Then the High Priest said to Jesus, 'I demand in the name of the Living God that you tell us whether you claim to be the Messiah, the Son of God?' 'Yes', said Jesus, 'I am. And in the future you will see me, the Messiah, sitting at the right hand of God and returning on the clouds of heaven.'"
Message
On the 26th March, 1997, thirty-nine members of the 'Heaven's Gate' cult (21 women and 18 men) took their lives, believing that they could join a spaceship travelling behind the Hale-Bopp comet. This was what might be called a UFO Religious Cult, founded by Marshall Applewhite in 1974. This mass suicide, aka 'The Demonstration', occurred because Applewhite thought himself a reincarnation of Jesus, and encouraged his followers (long-time truth-seekers or spiritual hippies) to sacrifice their lives for their beliefs. My question is, why should we take the resurrection of Jesus any more seriously than the arrival of a flying saucer hiding behind a comet? Or to put it another way, What's the basic difference between the Christian Church and the Heaven's Gate cult? We believe that Jesus Christ rose from the dead, is alive today and is coming again to save His people and to rule the world - and we build our lives around this reality?? What's the difference? Pick your myth, right?
Well, obviously, there are major and dramatic differences between so-called cults and historic Christianity! In the Coming of the Messiah, the Son of God, into a particular historical place at a particular time, He connected with secular, historical people like Herod and Pontius Pilate. This was not narrated by one leader in some kind of trance, but by several reluctant and initially sceptical men who were surrounded by people who were close to the events recorded. Wild and crazy claims could have been refuted at any time. Christianity is rooted in real history! Paradoxically, this most historical of all religious movements (not considering Catholicism at this point) has no cultural centre, no holy place, no single cultural identity and no single leader on earth. It is the most multicultural of all religious faiths. In other words it has universal validity and relevance across all cultures.
Christianity has endured the test of time. Again and again people have predicted that Christianity will vanish with the passing of a particular era. But it has proved time and again that it is relevant and powerful in every generation. And, of course, at its centre is the absolutely unique person Jesus Christ. There is no-one comparable at the centre of any other cult or religion. He is unique in His teaching about God and life, about His love, wisdom and miracles. He is unique concerning His death and resurrection. Jesus is in a class all by Himself among all world movements of every kind. Interestingly, among the thousands of cults in America, the ones that have lasted the longest (Jehovah's Witnesses and Mormons) do so by piggybacking on biblical Christianity and keeping their 'unbiblical' views of Christ hidden. So when I ask the question about the difference between believing in the resurrection of Jesus and in a UFO behind the Hale-Bopp Comet, it's not as though the Heaven's Gate cult and historic Christianity stand on level ground when they lay claim to their beliefs. Could Marshall Applewhite and Jesus of Nazareth both be deluded fanatics who were out of touch with reality? We would hardly think so.
Now here's the connection with our text. There's actually going to be a great sky-demonstration of God's truth and reality. It's going to happen. Look again at v.64 of Matt. 26 -"You shall see the Son of Man sitting at the right hand of power and coming on the clouds of heaven." Jesus is going to appear, alive and real. But that 'Demonstration' is in the future. That puts us in a predicament surely? If we wait to see it before we believe in Christ, it will be too late. Let's stay right here in this text and ask, Why did Jesus say what He did about this great future appearance? He said it because, in v.63, the High Priest said, "I demand in the name of the Living God that you tell us whether you claim to be the Messiah, the Son of God." Jesus responded by saying, "I am not only the Messiah, the Son of God, but I am more: I am going to die and then afterwards there will come a time when the whole universe will see me sitting at the right hand of God in glory!"
Space prevents us looking much further, but we must note Jesus' comment about restoring the temple in three days. He was, obviously, speaking of His body (see John 2: 18-22). The people were flabbergasted by such an outrageous claim...."It took 46 years to build this temple and you will raise it in three days?" (John 2:20). Historically, by rejecting Jesus, the Messiah, and putting Him to death, Judaism (as enshrined in the Temple) died. The Priesthood came to an end and 40 years later the Romans destroyed the temple. No building and no place will ever be the focus again of where and how to meet God. Jesus is saying, 'I will be the place and the way to meet God. I am the sacrifice needed to cover sin. I am the Priest." What sign? What evidence? What authority? The answer: "Destroy this temple and in three days I will raise it up!" These things happened. They happened in history. They are NOT the delusions of a cultic leader. Jesus Christ is the divine Son of God. He is alive and reigning at God's right hand in heaven. He will come one day in power and great glory and 'every knee shall bow' and confess Him as God! Amen.
May God richly bless you all - as you reflect on these momentous things. Rev. Ralph A. Dunn.
Prayer:
Almighty God, who in your wisdom has so ordered our earthly life that we needs must walk by faith and not by sight;
continually boost our faith in acknowledging our Saviour, the Lord Jesus Christ, as King of Kings and Lord of Lords.
Grant us such faith and grace that amidst all the things that are beyond our comprehension, from mindless violence to natural disasters and pandemics,
we may somehow still believe in your Fatherly care.
May we ever be strengthened by the assurance that underneath are the Everlasting Arms.
Eternal God and Father, help us to entrust the past to your mercy, the present to your love and the future to your wisdom.
Give us such trust in your sure purpose that we may measure our lives, not by what we have done or failed to do, but by our faithfulness to you.
Dear God, it is so hard for us not to be anxious.
We worry about work and money, about food and health, about war and disease, about loving and being loved - show us how perfect love casts out fear!
To your Glory, O Father, through the Son and the Holy Spirit.
Amen.
BENEDICTION:
O Holy One, whose glory shines from the face of your Son;
O Christ, whose glory reflects the image of God;
O Spirit, whose glory transforms our fear;
unveil the fire of your love!
Christ our Light, hear us as we pray for your world: shrouded in the pain and tragedy of the pandemic -
bring healing and peace.
Christ our friend, hear us as we pray for courage to face tomorrow -
bring healing and peace.
Holy Spirit of truth, devouring fire of love: may we declare the truth openly, burn for God zealously and be prepared to be witnesses of Christ's glory -
until the day dawns!
Amen.
14th March
Fourth Sunday in Lent - God's Love is Great and Beyond Understanding
Texts:
Numbers 21: 4-9 - "The people were very discouraged....There is nothing to eat here, and nothing to drink, and we hate this stupid manna. So the Lord sent poisonous snakes among them to punish them, and many were bitten and died. Then the Lord told Moses, 'Make a bronze replica of one of these snakes and attach it to the top of a pole; anyone bitten who looks at it will live.'"
John 3 :14-21 - "And as Moses lifted up the bronze serpent...even so I must be lifted up upon a pole, so that anyone who believes in me will have eternal life."
Psalm 107: 1-3; 17-22 - "He brought the exiles back from the furthest corners of the earth. They were wandering homeless in the desert, hungry and thirsty and faint. Lord help! they cried, and He did."
Message - The Serpent in the Wilderness
As we see from our passage in John's Gospel, mention is made of this strange story from Numbers ch. 21. The people had regretted ever leaving Egypt. They consequently suffered a plague of deadly fiery serpents. They wisely repented and cried for mercy. Moses was instructed to hold up an image of a serpent and those who looked at it were healed and saved. (Later it became an object of worship and had to be destroyed.) So why an 'image' in the first place? Well, it was only a sign and a symbol - a pointer to turn their thoughts to God. It focused the people on what God could do - a demonstration of His healing power.
John used this as a type of parable of Jesus. Even so Jesus must be 'lifted up' and when our thoughts turn to Him we find eternal life and salvation. (Note: Every time the words "lifted up" occur it's a reference to Jesus' death.) The verb 'to lift up' is used in two senses: i) Lifted up on the Cross; ii) Lifted up into glory. A double lifting up in Jesus' life! The two are inextricably linked...the Cross was the way to glory. If He had evaded it, refused it, there would have been no glory for Him. It's the same for us - we can choose the easy way. We can refuse the Cross that every Christian has to bear and if we do we lose the glory. It is one of the unalterable laws of life that if there is no Cross, there will be no Crown.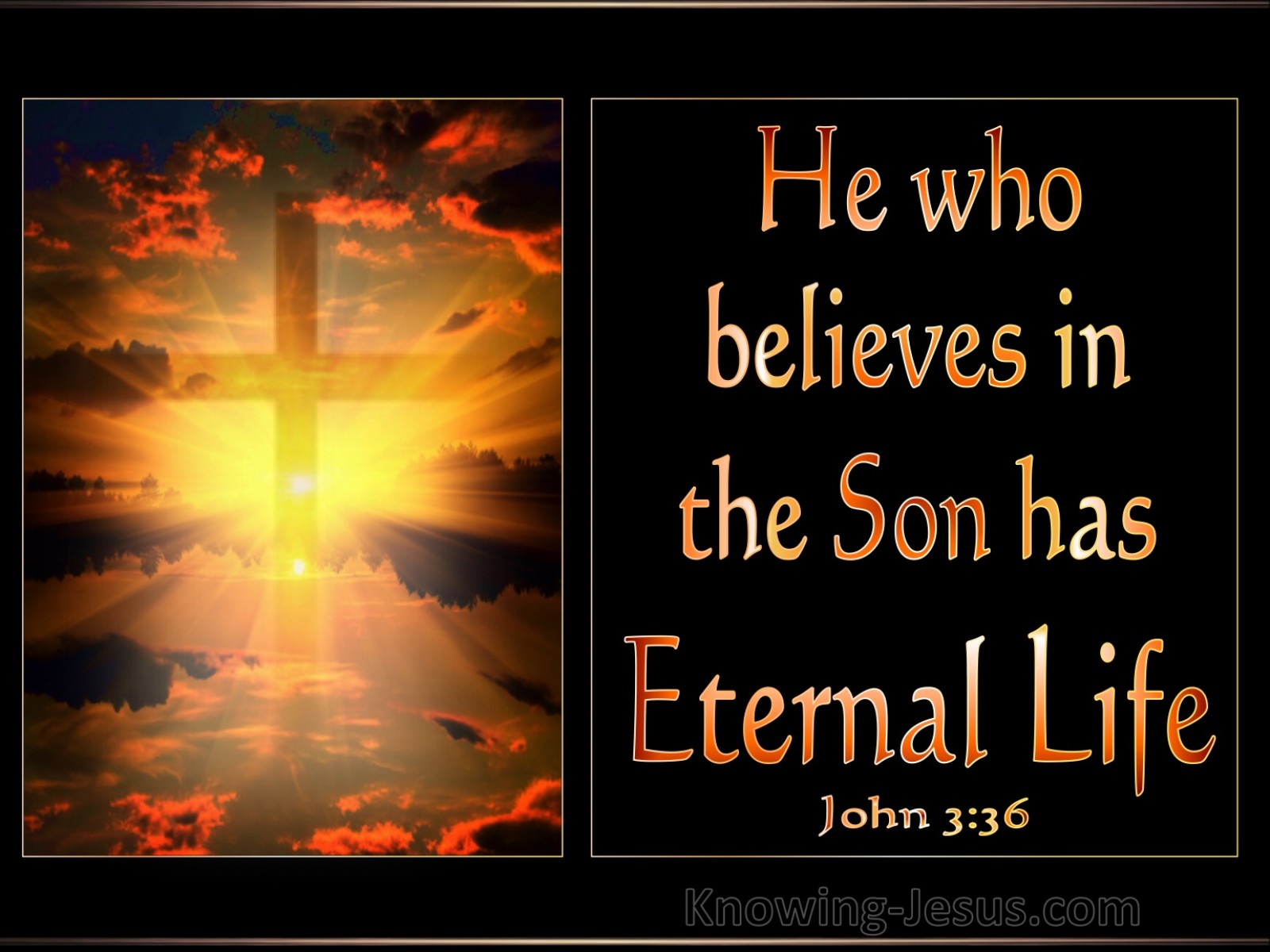 A look at John 3:16 - there are two expressions we must think about...
1. BELIEVING IN JESUS:
(a) Believing with all our hearts that God is as Jesus declared Him to be. That God loves us. Cares for us and wants to forgive us. It was not easy for a Jew to believe this. God looked upon as a judge who punishes when a law is broken. This is a demanding God. A hard taskmaster. But In Christ we see that God is a loving Father, longing for His erring child to come home.
(b) Jesus IS the Son of God: in Jesus there is the mind of God and He can only tell us the absolute truth about God.
(c) Because we believe that Jesus is the Son of God we now must stake everything on the fact that what Jesus says IS TRUE. What he says, we must do. Even the smallest action of life must be done in obedience to Him.
2. ETERNAL LIFE:
This is the first time 'Eternal Life' is mentioned in John's Gospel. (Note: It is not just life that goes on and on forever, but a new quality and enrichment of life - NOW! It is the life of God.)
But if we possess it, what is it we possess? What is this life like? To have it changes every relationship and every aspect of life.
(a) It gives us peace with God. We no longer cringe before a tyrannical king or hide from a harsh judge. We are at home with the Father.
(b) It gives us peace with others. If we have been forgiven, we must be 'forgiving'.
(c) It gives us peace with life. A Father's hand will not cause His child a needless tear. We may not understand life any better, but we will not resent life any longer.
(d) It gives us peace with ourselves. We know our own weaknesses, the temptations, the tasks and demands of life - but now we know we face it all with God.
(e) It makes us certain that the dearest joys on earth are only a foretaste of the greater joy that will be. It gives us hope, a goal, and an end-destination to which we are travelling.
Every blessing. Rev. Ralph A. Dunn.
Prayer:
With broken hopes and broken promises, we come to you, Lord. For you alone can make us whole.
Many have broken hearts, broken bodies and broken minds - we come to You, Lord, for You alone can make us whole.
Blessed be God forever.
Blessed be the God and Father of our Lord Jesus Christ, who has blessed us in Christ with every spiritual blessing in the heavenly places.
Blessed be God forever.
Just as He chose us in Christ before the foundation of the world, to be holy and blameless before Him in love.
Destined us for adoption as His children through Jesus Christ, according to the good pleasure of His will.
In Him we have redemption through His blood, the forgiveness of our trespasses, according to the richness of His Grace that he lavished on us.
Blessed be God forever.
Amen.
BENEDICTION:
: May the Good Shepherd, who laid down His life for His sheep, continue to be your Faithful Shepherd who defends you from all evil.
And delivers you from all fear, who protects you from your own folly.
Who carries us home at last with rejoicing.
To the praise of His glorious Grace that He freely bestowed on us in the beloved.
Blessed be God forever!
And now may the companionship of the Man of Sorrows and the power of the King of Glory, and the infilling of the Holy Spirit, rest upon you all.
Amen.
6th October
This week, Roberta shared with us some thoughts about the church and community.
I have been thinking over the past few weeks about the church, about whether, if or how the church can reopen. We've filled in surveys, there have been multiple versions of guidelines for meeting safely and like everything else in life, we've had to make decisions about what is the right thing to do and what is safe for ourselves and others. What does it mean if only a few are gathered in the same place, while others are connected digitally? What does it mean if some cannot participate in the same way due to their health, their families' health, technological limitations or their work? Can the church function without the community gathering together in a physical way, especially when our most important sacraments emphasise the very real, physical practices of touching, eating, drinking and laying on hands?
This week has been the first week back for my students and I've been reading much on the subject of how to teach online and how to create a sense of community when we never meet in person, and sometimes never even see their faces or hear their voices. One paper I read contained this thought which I thought was relevant to the questions about the church:
" a community is what people do together rather than where or through what means"
We are not a community because of where we are or how we go about worshipping. We are not part of the bigger community of the worldwide church because of these things either. Whether we are in a church building, watching a service at our kitchen table, catching up with it in little chunks between work or even have struggled to connect with it at all; Whether we kneel to pray and stand for the gospel, or stand to sing and sit to listen; whether our church building is big, small, built for that purpose or we meet in a borrowed hall. We are a community because, as it says in Galatians, we bear one another's burdens and so fulfil the law of Christ. We have done this over the past 6 months in these Sunday evenings, in phone calls, emails, prayer, coffee on Zoom, meeting in gardens, delivering essentials to those who need it, wearing masks to protect others, and in a multitude of other ways.
As we worry about the coming months, about Christmas restricted and stricter public health measures, we can hold on to this community we have and that we continue to build. A community built on what we do together, worshipping, praying, creating, laughing, weeping, protecting and supporting each other through these hard times.
13th July 2020
This evening we'd like to share a recording of the Raindrop Prelude by Chopin, recorded for us by Gina Baker this week. The photos were taken by Una and Sarah. After you've listened to it, you might like to read the poem by Gerard Manley Hopkins and a contemporary psalm from Desmond and Mpho Tutu which you can read here.
'Thou art indeed just, Lord, if I contend'
By Gerard Manley Hopkins
Justus quidem tu es, Domine, si disputem tecum; verumtamen
justa loquar ad te: Quare via impiorum prosperatur? &c.

Thou art indeed just, Lord, if I contend
With thee; but, sir, so what I plead is just.
Why do sinners' ways prosper? and why must
Disappointment all I endeavour end?
Wert thou my enemy, O thou my friend,
How wouldst thou worse, I wonder, than thou dost
Defeat, thwart me? Oh, the sots and thralls of lust
Do in spare hours more thrive than I that spend,
Sir, life upon thy cause. See, banks and brakes
Now, leavèd how thick! lacèd they are again
With fretty chervil, look, and fresh wind shakes
Them; birds build – but not I build; no, but strain,
Time's eunuch, and not breed one work that wakes.
Mine, O thou lord of life, send my roots rain.
Source: Gerard Manley Hopkins: Poems and Prose (Penguin Classics, 1985) - accessed here